Forum
Yeti and guerilla
Hey ,

I'm kind of struggling with the yeti fur when it goes to shading it , I'm looking for a way to use a generate ST or an equivalent on it and I don't see anything that could do the trick


I try to create a 'temp' instance node on the scalp to generate an ST and then plug the surf st in the tex coordinate of my yeti fur shader but it doesn't seems to work

Am I missing something or is it just not possible at the moment ?


Thx in advance


Hugo
Re: Yeti and guerilla
To be more specific we are using Yeti in Maya but replacing the Fur by plane instances. Our .fur exported from maya looks like that :





Our problem is that when we are plugging a color map done on the scalp unwrap on the Yeti node thats looks like that :




instead of changing the general color of all the instanced planes,it is applied on each plane separately, like that :




We tried with pure Yeti strands fur instead of Yeti instances and it worked, but as soon as we are replacing the strands by planes we cannot control the global shading anymore and only can shade the planes separately. It is like the instanced plane overrides the scalp unwrap and gets the priority, and we wanted to know how we can overcome that so we can have control at the same time on the global color of the fur + the shading of each plane (so we can put the opacity mask)

Thanks in advanceee

Ismaïl
Re: Yeti and guerilla
Hi,

Yeti assigns regular uvs to the instances in the standard "st" channel, so that using a texture node will automatically map the instanced object with its native uvs.
Yeti assigns the origin uvs of the scalp to another channel, named "parent_s" and "parent_t', so you can craft a custom shader, and connect the PrimAttr node (using parent_st) to the TexCoords input of the texture node, and thus blend between the scalp shader and the plane shader.

You can also use the Yeti input shader node, that extracts the parent_s and parent_t, and merge them using a vector3 node :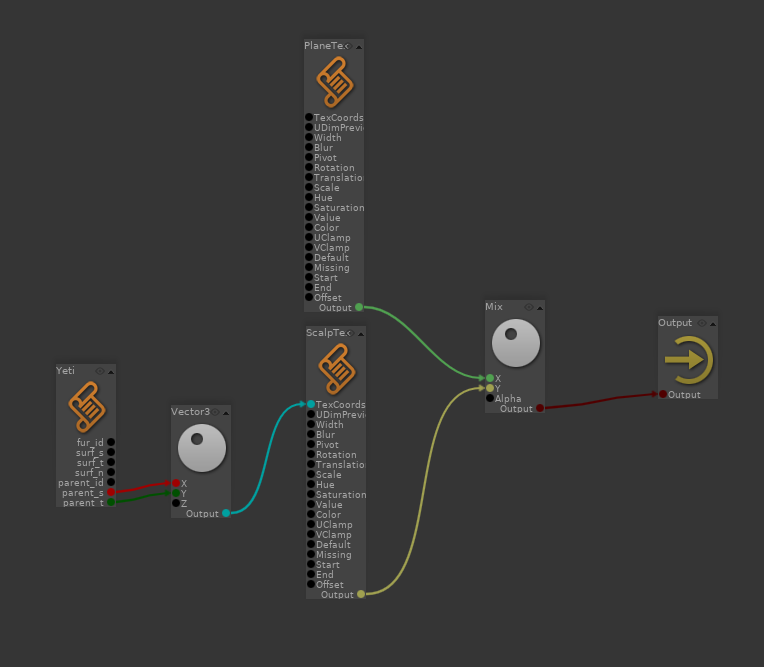 Best,
Ben
Re: Yeti and guerilla
Thank you very muchhh Ben it is exactly what we needed and it works perfectly!
Re: Yeti and guerilla
haha I may have spoken too fast, the only issue we got is when adding a Shadows or ShadowsMask pass Guerilla then crashes automatically. We assumed it's because of the opacity of the planes that is too much complicated to calculate in the shadows,but is there a way to counter that or should we just forget the idea of using Shadows AOV with opacity planes in our scenes?
Last edited by Smiloulou (2018-11-12 14:46:38)
Re: Yeti and guerilla
Can you tell which version of Guerilla you are using?
I can remember a crash in the Shadows/ShadowMask aovs, but I think we got it fixed.
Re: Yeti and guerilla
I get this problem on the 2.1.0a34 version, should we be using an other one?

And nothing to do with the topic, but do you know the path to type if we want to select all the even numbers of a list of objects ? Imagine we have 1 000 cubes, and we want either to select in a path all the even or uneven numbers? Or 1 object every two or three objects, is it possible?

Thanks in advance,
&have a good day !
Guerilla dev, the guy to hug
Re: Yeti and guerilla
Please Smiloulou, can you open another thread for the path question?

Thanks.
---
Philippe Llerena
Re: Yeti and guerilla
no problem will do sorry for the trouble!
Re: Yeti and guerilla
Hi,

This crash is Windows specific. We've uploaded Guerilla 2.1.0b7 that fixes this issue. The Linux version is not affected.

Best,
Ben
Re: Yeti and guerilla
Is Essay USA reliable? Do they provide good guarantees to customers? You will find answers to these questions reading the review from a student by a link.