Forum
Shadows
Dear beta users,

You will find revamped shadows in the version 0.13 of guerilla:

- Less aliasing in shadow maps and antialiased shadow maps
- Faster build for shadow maps
- Antialiased shadow maps now support mipmaps and colors
- Raytraced shadows support tracing materials that have opacity too

Quick recap:
If you want colored shadows you will need for both raytraced shadows and antialiased shadow maps to activate in the primitive materials the "Shaded Shadows" option.
For raytraced shadows you will also need to activate the option "Trace Opacity" in the shadow node itself.

Note that "Quality" option now controls in case of antialiased shadow maps the precision of the mipmaped lookup. That means if your shadow is small on screen regarding its resolution and/or has lots of blur, the lookup will possibly use lower level mipmaps. "Full" setting always uses full resolution of base level at the expense of render speed and guerilla's cache usage.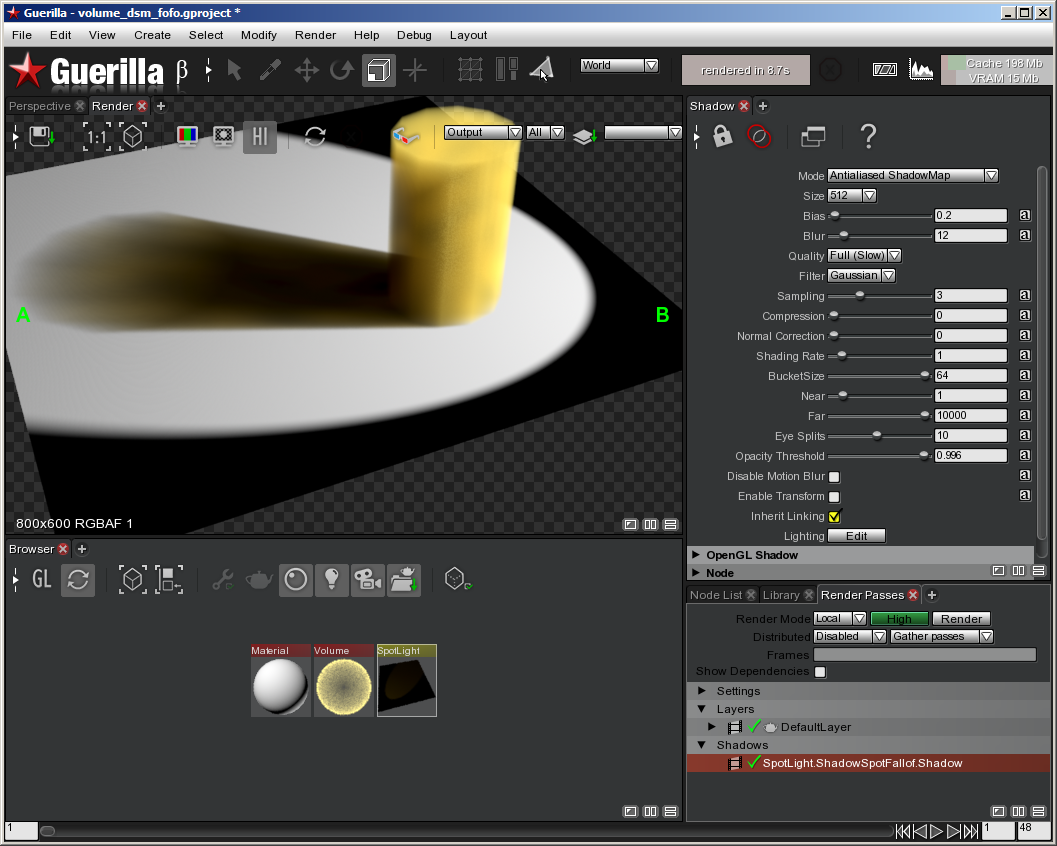 Colored shadow maps for a Volume (works of course with Surface too!)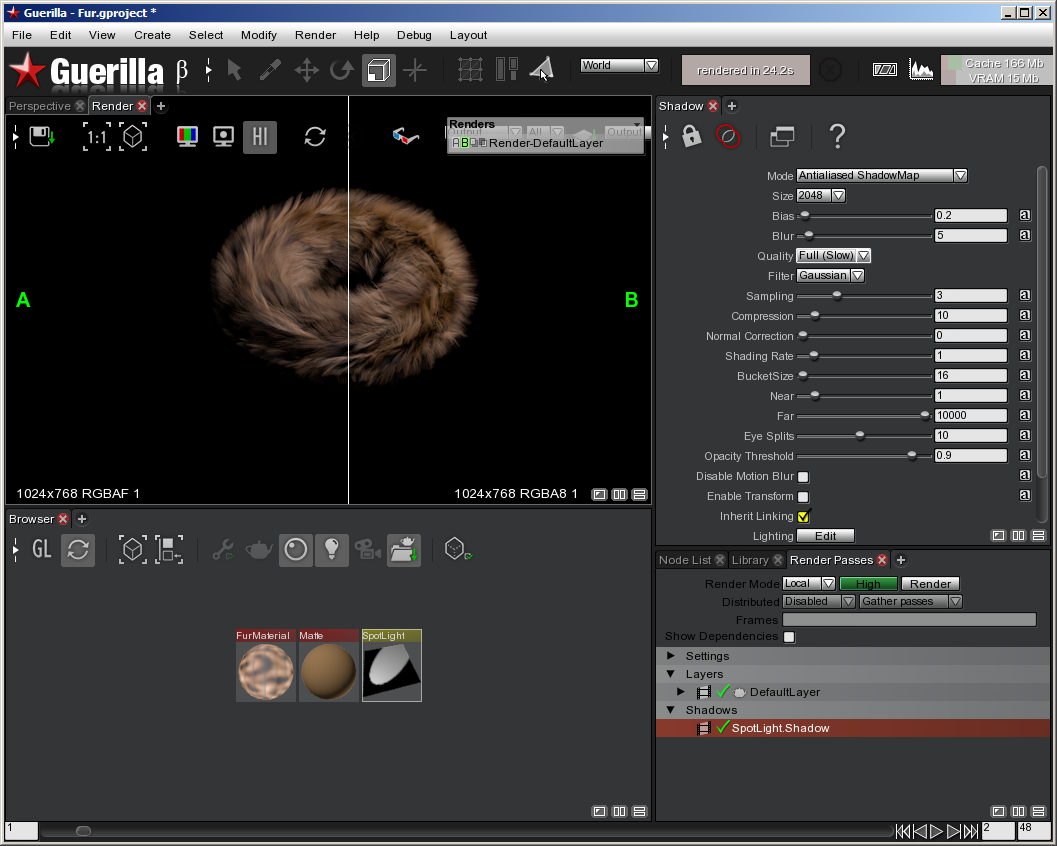 Mipmaped shadow maps. In this case when using the Middle setting, rendering time is divided by a factor 2 with a lower cache usage (-20%).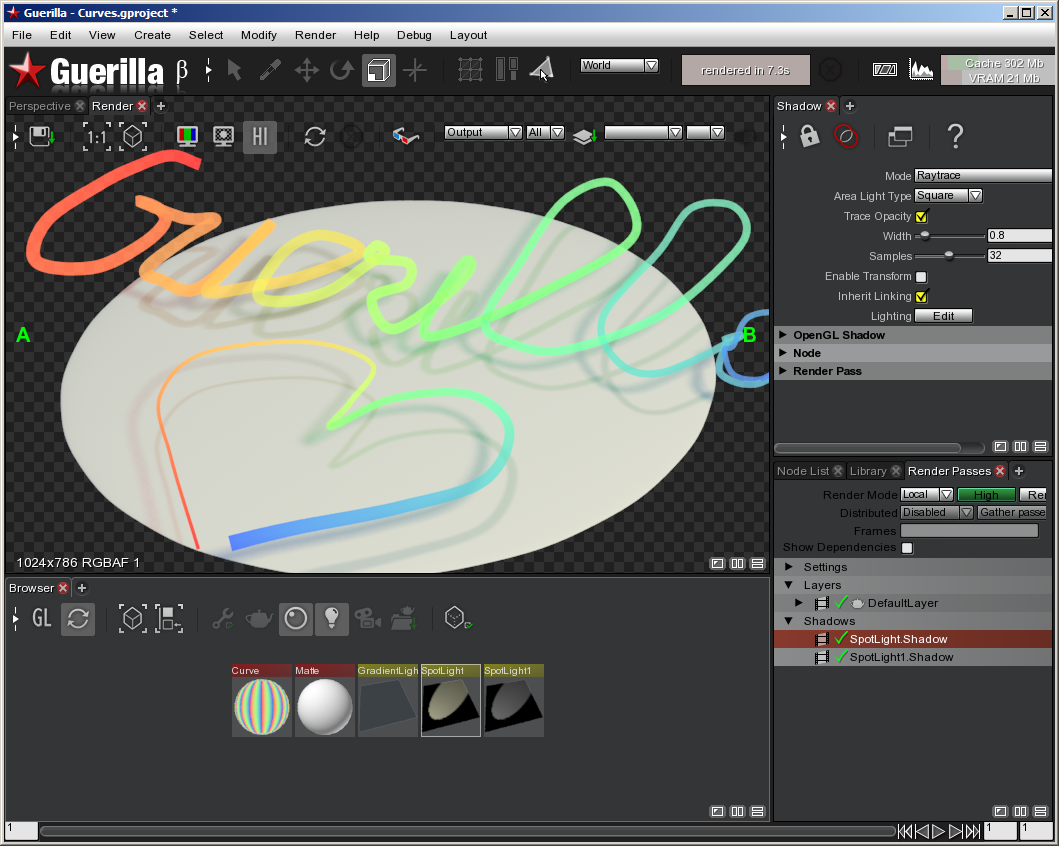 Raytraced colored shadows

Guillaume
Re: Shadows
Hi,

Super the new shadows, great work

Matt
Member
Member
Re: Shadows
Hello MattRm,

Did you try RGB to HSV to manipulate V as the opacity then invert the color and finally HSV to RGB ?
(by the way nodally use X,Y,Z|comp to manipulate H as X ,S as Y and Z as V)
Unfortunately i don t have the last guerilla to test it but something like this should work.
Cheers,
Pixo
Last edited by pixo (2011-12-11 19:29:48)
Re: Shadows
Hi Pixo,

I'll try, I had the same trouble with 3delight, and the answer was in the light. In all way I'll try.

ps : The 0.13 is still buggued but it's really good
Member
Re: Shadows
Hi MattRm,
May be there is a simplest way, let wait for Stringer advices.
I m looking forward to test this wonderful version.
Take care