Forum
gather
Hi dear Guérilleros

Could you explain us how to manage the "new" gather function in the raytracing occlusion & indirect diffuse?

I create an aov in my layer & plug an envmap, in my shader I plug an occlusion with the same variable in the gather.
But nothing appears.

What is wrong in my workflow?

Thx

Gam
Guerilla dev, the guy to hug
Re: gather
Hi Gam,

The raytracing node (that is Indirect Diffuse and Occlusion, which are actually the same node with different settings) now has an additional 'Traced Value' string attribute. This attribute indicates to the raytracer that the gather loop should integrate this particular Surface output. In case the Surface doesn't have this output defined, it will gather the Color instead.

For intance:

MySphereMaterial has a surface output (with classic Color and Opacity) and an additional output named "CUSTOM".
In an Indirect Diffuse node, set the 'Traced Output' attribute to "CUSTOM". This way, the raytraced will gather the surface CUSTOM output instead of the Color output: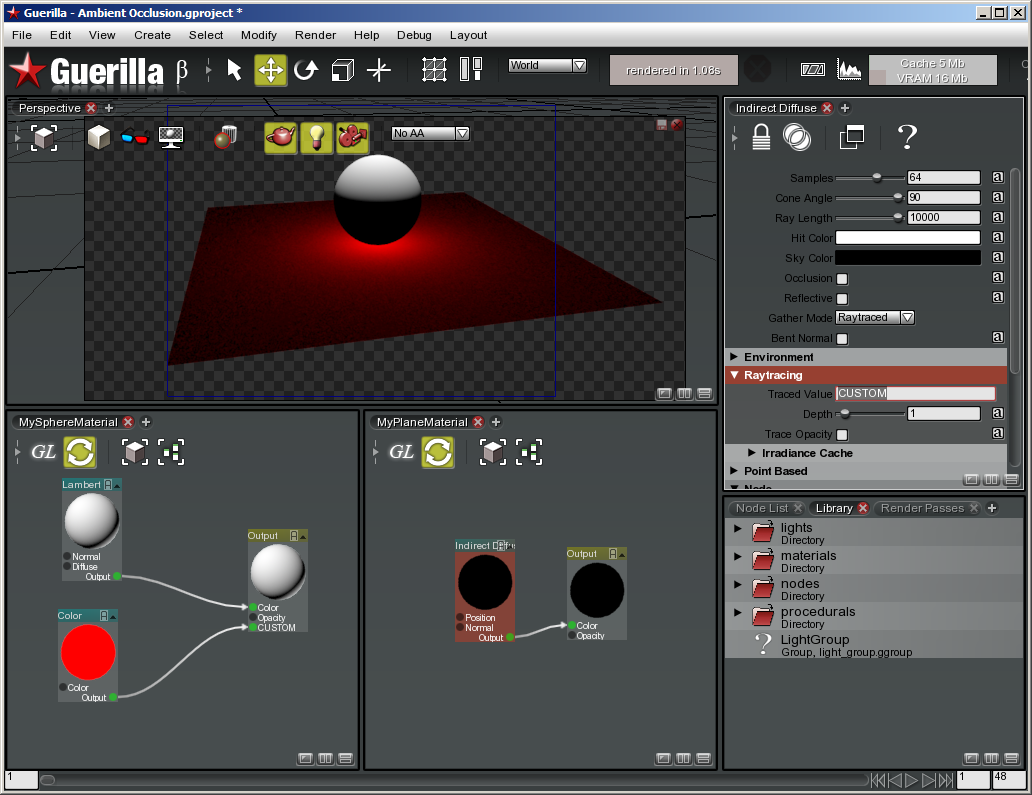 Note: the traced output is a Surface output, not a Layer output. Layer outputs are meant for final image. When we'll have output query of Surface values in the Layer, we'll add some extension to be able to gather Layer values.
Re: gather
Hi Ben

Ok. I understand my mistake.
Now this is clear in my mind :-)

Very big thanks

Gam
Last edited by Gam (2011-01-24 14:39:45)